1. The machine structure is aluminum alloy assembled structure,never scrap, with permanent service life, and it is high efficiency machine which can save 70% energy. The machine is for washing glass before tempering, after edging and before screen printing.
2. Other structure parts are top- grade powder coated which is better than paint and make machine surface corrosion resistance.
3. All transmitting rubber rollers of the machine are vulcanized rubber with SS304 shaft(They are forbidden to contact with acidic liquids.), which can reduce secondary pollution for glass caused by rust, to achieve requirements for high quality wash.
4. Washing section and other parts contacted with water are made of stainless steel material to reduce secondary pollution and rust problem.
5. Washing section and drying section can be lift up max.to 350mm as a whole, which is convenient to wash and maintain.Two times protect:digital control stroke protection, safety limit switch protection.
6. The machine has three pairs of brushes (φ160mm) with SS304 shaft. Washing LOW-E glass function : can wash LOW-E glass, ordinary coated and solar coated glass without any scratch on surface.
7. The machine has two pairs of air knife made of stainless steel and aluminum, which has large wind and good drying effect. The machine has air heating system.( Remark:machine for export need to be separated design which cost is different)
8. Blower has air filter in air inlet, big airflow and excellent drying effect. The whole blower is installed on the top of machine to save space and it can be risen up together with washing and drying section, and the air filter is on the side for convenient inspection and cleaning. Air filter is need to clean every 7 days.
9. Main drive is gear drive, frequency speed control and digital display. Brush roller drive of washing section is drove by upper and lower motors with separate belts. With the advantages of automotive pulleys without tension wheel, flexible brush rotation, high precision, etc., brushes have smooth speed and long service life and can wash special glass which need high quality clearance.
10. 1PLC control and touch screen display, for convenient operation and maintenance; Reserve the connection communication and signal connection terminal for auto-loading/ unloading table and edging machine.(If with special requirements,the user need responsible for connecting function and commissioning.) Machine thickness adjustment refer to electronic ruler or encoder to ensure accurate; convenient and simple operation, which is a good choice for connecting with another machine, reducing labor,and to achieve full automatic operation.
11. Water tanks of machine are movable and put on side , which is easy for cleaning , changing water, checking, etc., and make washing effect better.
12. Has blower inverter and sensor and loading section which can delay machine stop.
13. Working Environment: ordinary workshops or dust-free workshops
14. Machine noise level: less than 86DB; Measuring Method: test at 1m distance from loading and unloading section.
15. Safety certificate standard: 3C standard.
Machining center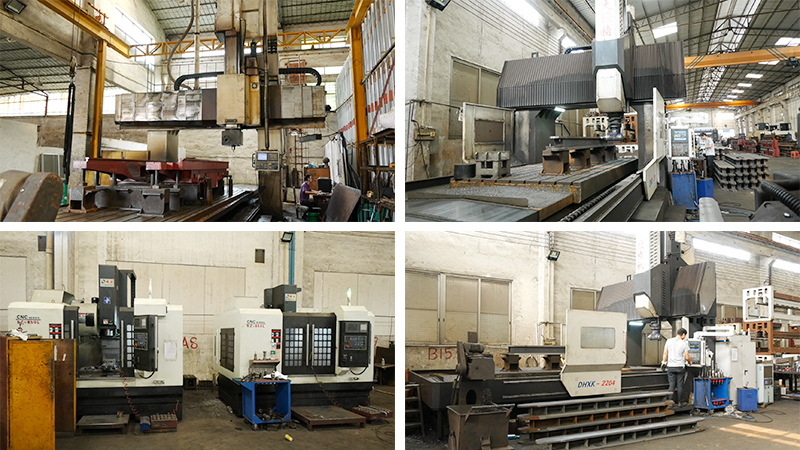 Certificate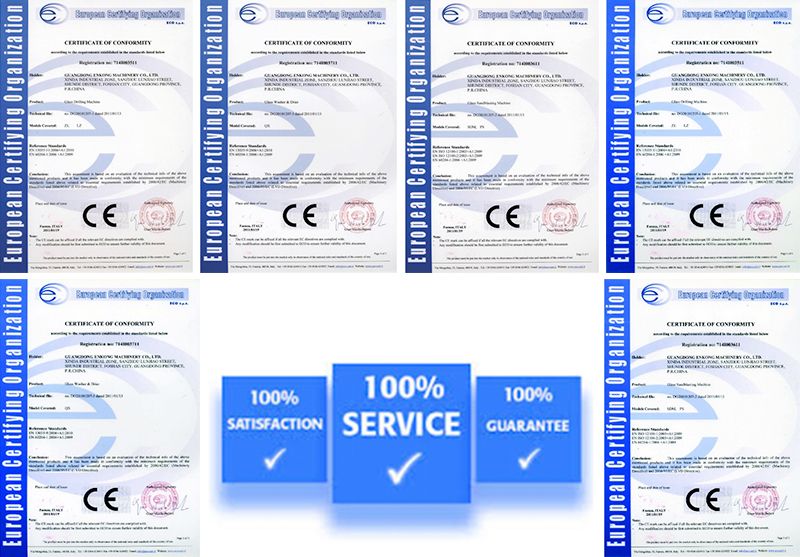 Service